There is much to love about Attawapiskat, despite the tough circumstances it faces – the northern Ontario community declared a state of emergency in April because of an escalating rate of youth suicide attempts. During my most recent stay there this June as a visiting art educator, I witnessed the strength and beauty of its young people. The collaborative project "Reimagining Attawapiskat" brings University of Victoria researchers together with artists from Attawapiskat to circulate images created by community members on their own terms. High school art teacher Mandy Alves and I together spoke about visions and dreams, hopes and fears and challenges of the past, and we imagined brighter days for the generations to come.
Outside the classroom, we swam in the river, watched several sunsets, and on graduation day we danced into the wee hours of the night to honour the impressive 17 high school graduates who crossed the stage to receive their diploma on June 25.
Several of these graduates express their appreciation for their home through music, dancing and drumming. Videos co-produced by artists from inside and outside the community documented how community members are taking action and walking together to address health and wellness. Though the media continues to portray Attawapiskat as a "troubled" community, my aim is to tell a different story about the beauty and strength of the young people who call this place their home.
State of emergency declarations draw the public's attention to what life is like living on the edge — between hope and despair, on the fringes of mainstream society. Unfortunately, the spotlight can over-emphasize despair. It is just as important to honour stories of hope, strength, and resistance. Community member and artist Priscella Rose said it best a few years ago, reminding people that her community is so much "more than a housing crisis." Another youth leader, Chelsea Edwards, drew our attention to the challenges, but also to the beauty of this place. Her community, she noted, is rich in language and culture.
A few weeks after the state of emergency declaration, young people in Attawapiskat began a healing walk along the 300km winter road that connects communities along the western shores of James Bay, to demonstrate support and raise awareness about the need for mental health services. Just a few years earlier, in 2014, community members walked over 1,000km to Ottawa seeking a renewed conversation about treaty relations. In these ways the community, young and old, mobilizes for change.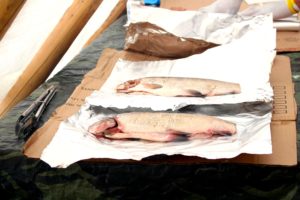 Of course, Canadians should not be naïve about the systemic injustices people in Attawapiskat face. The state of emergency declaration in April (the fifth in a decade) signalled the need for a much broader conversation about how we treat communities in crisis, how to deal with the long-standing environmental problems (such as flooding and sewage backups), and how to renew respect for treaty relationships. Attawapiskat Chief Bruce Shisheesh has said that mental health is an all-consuming concern and that his is a community in pain. His words echo those of former chief Theresa Spence, who held a high-profile hunger strike in December 2012 to raise awareness about the dire situation facing her community specifically, and Indigenous peoples generally. Bruce and Theresa both inform us about how difficult it is to stay positive in the face of the long-term problems caused by inadequate infrastructure and Canada's colonial legacy. These complicated feelings of grief resonate throughout the community, voiced by individuals of all ages.
During her hunger strike, Theresa expressed the need for an invigorated debate about treaties like Treaty 9, signed in 1905, that governs the area. The treaty involved federal, provincial and Indigenous authorities from the James Bay region, Toronto and Ottawa. When Theresa and I spoke this February in Timmins, she reminded me that I am part of the treaty too. All Canadians are.
Our newsletter about the public service.
Nominated for a Digital Publishing Award. 
When I left Attawapiskat (via Timmins) a few weeks ago to return to my home in British Columbia, I had the good fortune of running into Indigenous motivational speaker Stan Wesley. We spoke about his experiences facilitating a meeting between James Bay youth leaders and Prime Minister Justin Trudeau in June 2016. I mentioned the "Reimagining Attawapiskat" project and my interest in treaty relations. He suggested convening a national conversation in 2017 to celebrate Treaty 9. Cities such as Timmins, where we ran into each other at the airport, have a role to play in these discussions. All levels of government must be part of this conversation for there to be a real exchange about the treaty. Public officials and the media have a role to play to enhance and deepen this conversation. They have a responsibility (as noted in the Truth and Reconciliation Commission's Calls to Action) to reframe the debates and circulate knowledge to a wider public audience in ways that are culturally respectful and nuanced.
To reimagine Attawapiskat, we need to look at the past, so we can move forward together to find a decolonized future. When we focus on despair, emergencies, and grief, we miss the rich stories that ground communities in place. Celebrating these stories and bringing in a spectrum of voices across backgrounds and generations is crucial if we are to have a meaningful dialogue about reconciliation.
Photos of Attawapiskat courtesy of Sarah Marie Wiebe.
---
Do you have something to say about the article you just read? Be part of the Policy Options discussion, and send in your own submission. Here is a link on how to do it. | Souhaitez-vous réagir à cet article ? Joignez-vous aux débats d'Options politiques et soumettez-nous votre texte en suivant ces directives.