With the longest election campaign in more than a century now behind us, our newly elected federal government has a clear mandate to get moving on a climate change and clean energy agenda. Prime minister-designate Trudeau's Liberals campaigned on a platform that recognizes environmental protection and economic prosperity must go hand-in-hand, and sees clean energy infrastructure as a key climate solution. Having won a majority, his government must now figure out how best to capitalize on the tremendous potential of Canada's clean energy sector, while renewing Canada's commitment to climate leadership.
It will be no small challenge given Canada is a resource-driven economy and one of the world's leading fossil fuel suppliers. Yet this past June in Germany, Canada committed, along with our G7 counterparts, to decarbonize the global economy before the end of this century.
Achieving this goal requires a global shift from fossil fuels to clean energy — an energy revolution that is already underway, even in Canada.
The global energy system is changing rapidly. Clean Energy Canada produces a pair of assessments each year, Tracking the Energy Revolution both globally and within our borders. Although we follow new developments in energy technology, government policy and investments day-in and day-out, the sheer pace and extent of the clean energy shift isn't apparent until you step back and look at the key trends, moments and milestones:
Investors moved USD$295 billion into renewable energy-generation projects in 2014 — an increase of 17% over 2013.

The value of the broader clean energy market in last year  (including buildings, vehicles, and more) grew to USD$788 billion.

The prices of solar technology and advanced batteries continued to drop — and will keep dropping.

The United States and China signed a ground-breaking climate and clean energy cooperation agreement.

India set a target of 175 gigawatts of new renewable electricity capacity by 2022. (For comparison, the capacity of Canada's electricity grid in 2013 was

127 gigawatts

.)

Within a couple of years, a price on carbon pollution will apply to more than half of the global economy.
Many Canadians will find these facts surprising — which is understandable, given the scant attention typically paid to such stories on Parliament Hill, Bay Street or in the news. As a nation, we predominantly continue to think of energy in terms of commodities (oil, gas, coal, uranium) rather than advanced technologies and services — to our own economic detriment.
While carbon-based fuels will remain an important part of the global energy system for decades to come, their dominance and longevity are increasingly uncertain. What is more certain is that those countries leading the way on clean energy — developing new technologies and services, deploying them at home and exporting them abroad — stand to benefit economically and environmentally, and will emerge as the energy leaders of the 21st century.
As our new federal ministers pick up their briefing binders and the government considers its best route forward on energy, the economy and the environment, here are five things Ottawa could do to position Canada to compete and prosper, both now and into the low-carbon future.
#1: Be a Climate and Clean Energy Diplomat Abroad and at Home
The future belongs to those who show up. Once a key voice in the negotiations that led to the Kyoto Accord, Canada has become a climate laggard. The mantle for setting — and more importantly, meeting — targets to limit greenhouse gases now rests on the shoulders of the provinces and territories, with Ontario, British Columbia, and Quebec leading the way (and Alberta poised to join them). To participate in the global transition to a clean energy future, Canada needs to reinvigorate its climate and clean energy diplomacy.
The upcoming COP21 in Paris is an opportunity for the federal government to flex its muscles as a force for progress in international climate negotiations, and begin shedding its image as a fossil of the past. There is no greater evidence of the rise in climate diplomacy than the U.S.–China Joint Announcement on Climate Change, in which two of the world's largest carbon polluters agreed to work together to achieve a legal and enforceable international protocol to reduce carbon emissions.
Beyond the climate arena, if Canada wants to play in the clean energy game, it's going to have to start showing up. We can start by joining other countries as a member of International Renewable Energy Agency and playing a leadership role in the Clean Energy Ministerial — two fora where Canada has been noticeably disengaged. 
PM-designate Trudeau has identified the upcoming UN climate talks in Paris as a key opportunity to present a united provincial-federal front working to "reduce our emissions in a significant and serious way" and "to show that Canada is ready to do its part to prevent the world from reaching two degrees of catastrophic increase." He has also committed to invite all of Canada's premiers to join him in Paris.  
This represents a welcome and timely change in Ottawa's approach to global climate efforts, and it reflects the expectations of a growing majority of Canadians who want to see more federal leadership on climate change.
Of course, we don't just need the federal government to engage in climate and clean energy diplomacy beyond Canada's borders, we need it within our borders too. While provinces are responsible for decisions regarding energy, the federal government can play a critical role in facilitating greater inter-provincial collaboration — from optimizing Canada's power grid by increasing inter-provincial connections, to facilitating the development of an "effort-sharing" agreement to reduce climate pollution in line with our national targets, to implementing the Canadian Energy Strategy developed by Canada's premiers.
#2: Offer Clean Energy Carrots, Carbon Pollution Sticks
It may be cliché, but it works: any well-equipped toolbox in the fight against climate change is going to need the right combination of sticks to drive down carbon pollution, while providing the necessary carrots to build a strong and prosperous economy for the future.
Let's begin with the carrots.
We must renew and increase funding for Sustainable Development Technology Canada (SDTC). The agency has invested $740 million in cleantech innovation, supporting an industry that employs 50,000 Canadians. Ramping up federal investment in this valuable arm's-length fund will continue to grow the industry, support commercialization of technologies, and help make Canada a clean energy leader (more on this in Part 2).
Add to that a clean energy infrastructure fund. Tackling climate change is going to require shifting away from fossil fuels to clean energy as a power source, and Canada has huge clean energy resources. A national fund dedicated to building clean energy infrastructure — such as updating electricity infrastructure across the country, building a strong renewable energy sector, electrifying transit, and supporting inter-provincial collaboration — will accelerate the Canadian clean energy transition.  
The Liberals have committed to grow Canada's investment in proven cleantech developers (including SDTC) by $100 million a year, work with the private sector to see more venture capital dedicated to clean technology, and expand clean energy generation and infrastructure. They also promised to create a $2 billion fund to support projects that would cut carbon emissions. So it appears the new federal government has a good grasp on the carrots at its disposal.
Now for the most powerful stick: putting a price on carbon.
Globally, 39 national and 23 sub-national jurisdictions have implemented or plan to implement carbon pricing programs. Within the next two years, more than half of the world's gross domestic product (GDP) will be under some sort of carbon price — including three of Canada's provinces, which contribute more than 70 per cent of Canada's GDP.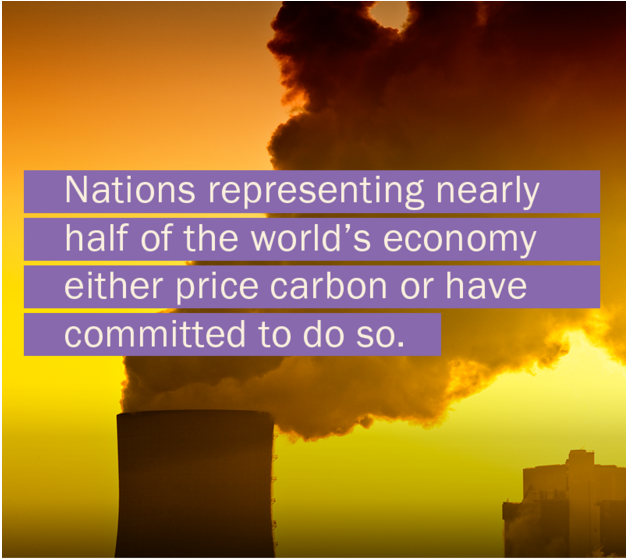 The federal government needs to follow through on the Liberals' campaign promise to champion nation-wide coordination on carbon pricing. It also needs to ensure the price is high enough to create an incentive to reduce emissions, and balance the provincial systems and preferences with the overall goal of establishing an effective and harmonious national approach. Achieving this goal could bolster Canada's economic competitiveness and international reputation, while minimizing "carbon leakage" (the transfer of business activities from a jurisdiction where carbon pricing applies to one where it does not).  
While carbon pricing is a central element of effectively addressing climate change, it must be supplemented by complementary policies and regulations. For example, while much of the decarbonization of Canada's electricity system can be achieved by ramping up the supply of renewable energy, there could remain a role for coal and natural gas-fired power — so long as it incorporates carbon capture and storage (CCS) technology. But experience to date has demonstrated that a carbon price alone isn't likely to create a strong enough incentive for companies to invest in CCS. In that case, if coal and gas are to continue in Canada's electricity mix, regulations would be required to mandate a level of emissions performance that could only be met with CCS.
Now that the Liberals have a majority firmly in hand, it's time to map out the specific steps they will take to put Canada on a pathway to restoring its reputation and capitalizing on Canada's clean energy potential. The first two steps we've identified would help our new federal government put its best foot forward.
---
In the second instalment in this series, we'll discuss three more big steps Ottawa could take to help Canada compete in clean energy. Produced with writing and research support from Sarah Petrevan.